Introduction

The boxes were cut out in 1982. I assembled them in late 1999 and installed a Boston Acoustics 705 5.25" plastic cone with paper whizzer FR.
The initial no-name tweeter was replaced with an ApexJr ribbon.
Whizzer cone treated with puzzle-coat
3.3 uF cap on ApexJr ribbon
0.34 mH choke on mid-woof
They sound pretty good so far.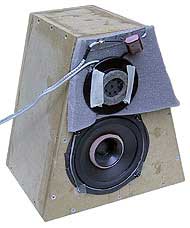 Photo 3:
MiniMonitor with BA 705 and ApexJr Ribbon in developmental guise